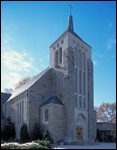 According to a 1995 document regarding allegations of misconduct against Fr. Ron Pytel, the 1975 incidents of misconduct took place in the rectory at St. Rita Church in Dundalk, Maryland
According to Fr. Pytel's obituary [ View ] , he earned a theological degree from St. Mary's Seminary and studied at the North American College in Rome before his ordination as a priest in 1973.
Pytel served at St. Rita Church in Dundalk and at St. Clement in Rosedale before being named liturgy director for the Archdiocese of Baltimore.